Pink Pharmacy is a retail venture setup by Dvijay Pharma Pvt. Ltd. (Estd. 1975). Pink Pharmacy is a chain of 'organized' retail pharmacies.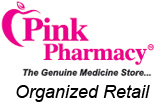 Presently Pink Pharmacy offers three operational modules.
Hospital Attached Pharmacy
Public Domain Pharmacy
Franchisee Pharmacy
Hospital Attached module offers two modules:
Profit sharing &
Rent based operations
The sound back-end of reputed Indian & multinational companies which are associated business partners with Dvijay Pharma Pvt. Ltd. ensures direct sourcing of Genuine and Economical Medicines. Hospital Management is benefited by group buying of Pink Pharmacy network of Hospital attached Pharmacies. The role of Pink Pharmacy is implementing all the GPP (Good Pharmacy Practice) guidelines. These knowledge based professional Pharmacy services help to improve the operational margins of Hospitals. Presently Pink Pharmacy caters to a total of 3000 beds across various hospitals and aims to increase this to 10000 by FY-2025
Public Domain Pharmacies are on road Pharmacies for walk in customers. All these pharmacies are temperature controlled dust free pharmacies backed by well-qualified trained Pharmacist. It is the attempt to level the international Pharmacy standards. The unique features of these Pharmacies are.
Genuine Medicines
Temperature Controlled A/C Storage
Dust-free Storage Conditions
Run By Well Qualified Pharmacist
Home Delivery
Various Economical options.
24 x 365 Cold Chain with Power Backup.
Franchisee Pharmacy
Franchisee Pharmacy is an attempt to bring existing Pharmacies under the network of Pink Pharmacy . We train & upgrade the knowledge of the existing pharmacy owners. This provides an opportunity to work under a corporate brand practicing uniform standardized service modules.
What makes us stand out?
Currently Pink Pharmacy operates in the State of Maharashtra only and looks ahead for an expansion across India.